Secure network architectures need to constantly evolve to keep up with the latest advanced persistent threats. There are two ways to find out if your solution isn't keeping up—wait for a breach to happen or run validation tests.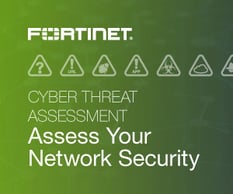 Fortinet's Cyber Threat Assessment Program (CTAP) provides you with in-depth information (View Sample Report) about the current state of your network, covering key areas of security threats, productivity and performance.
Security and Threat Prevention
Application vulnerabilities
Malware/botnet detection
At risk devices within the network
Productivity
Application categories and cloud usage
Peer to peer, proxy app and remote access
Web-based applications and browsing habits
Performance
Bandwidth analysis and top consumers
Sizing information – average log rates/sessions
FortiGate CPU and memory utilization


This program lets you install a FortiGate in your network without interrupting your existing infrastructure. Keep the FortiGate there for up to 7 days and you'll receive a Cyber Threat Assessment Report completely free of charge.
What are the Benefits of Running CTAP Assessments?
Evaluate Fortinet gear within your real-world environment
Receive a security report showing what your current firewall is missing
Experience Fortinet's value without disruption of your network
Allow management to see that security is an area of need


Download Sample Report ...