As hybrid work environments become more prevalent, organizations are seeking effective ways to ensure their employees can work from home safely and efficiently. Avaya Aura offers a solution to enable remote work for your employees. However, many customers may require additional assistance to ensure smooth implementation.
This is where intlx Solutions comes into the picture. Founded by former Avaya engineers, we possess the technical expertise to provide consultation and guidance throughout the process, ensuring that your employees can maintain productivity while working remotely.
How Does it Work?
The SIP Remote Worker feature of Avaya Aura offers significant cost savings by eliminating the need for additional hardware and traditional telephony circuits, while also drastically reducing deployment time.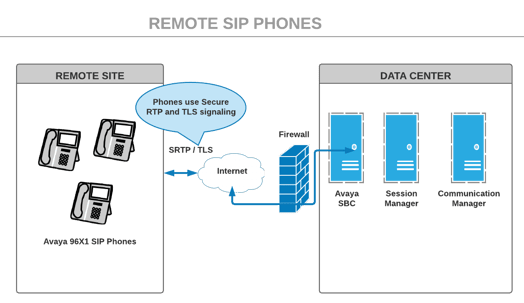 By implementing the Avaya Session Border Controller for Enterprise (SBCE), you gain the power to effortlessly and securely distribute remote users across various locations and effectively manage the flow of data. Placing the SBCE behind your firewall provides an added layer of protection as it handles registrations and ensures seamless delivery of features to your remote phone users.
Your employees can leverage their preferred Avaya SIP phones or Avaya's soft-phone to enjoy a seamless user experience, akin to being physically present in the office.
These remote phones securely register using the SIP protocol encrypted with TLS and transmit audio through secure RTP, eliminating the need for complex VPN configurations and tunnels. Moreover, the extension numbers for these phones originate from your Avaya Communication Manager system, aligning with your dial plan and granting you complete resource control.
Additionally, the Avaya remote worker solution extends support to Avaya Equinox soft clients, enabling your users to conveniently sign on using their active directory account with the assistance of the Avaya Aura Device Server (AADS).
Contact Us today to learn how we can assist you in your remote-worker strategy.