Inbound calls to your business are often the first opportunity for you to create a positive impression of your business.
Avaya Equinox Attendant is an easy to use attendant program that integrates easily with your business directory (Active Directory or other LDAP) to make handling calls to your main number much more efficient.
A quick response with an appropriate greeting will communicate professionalism to your customers, resulting in stronger, lasting customer relationships.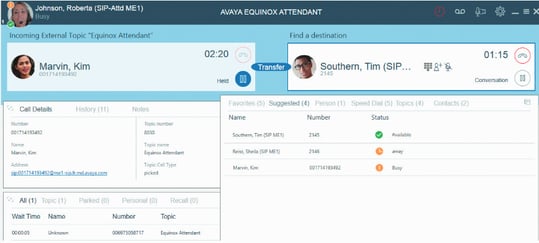 The user interface has been upgraded from the previous Avaya attendant softphone to give users a similar experience as users of the Avaya Equinox Softphone client. Equinox Attendant's intuitive interface gives operators a clear view of all callers including contextual history.
An action oriented workflow reduces queue times and increases the chance of the call being correctly routed the first time. Advanced features include:
Quick access to the most common destinations for your business's incoming calls

Suggested call routing based on- previous call patterns

Route calls based on presence status

Cherry-pick the most important incoming calls immediately

Add contextual information to a caller's contact card