With intlx Solutions' Avaya Visualize Monitoring, you will never again have to spend hours diagramming your Avaya voice system.
Each week, based upon your systems configuration at the time, our tool will draw 4 different Visio Diagrams:
Avaya IP Network Regions
Avaya Media Gateways
Avaya Control Network Layout
Call Vector Diagrams


All you have to do is download the Visio Diagrams and view them, no effort is required on your part to create the diagrams. As components are added or removed, your Visio Diagrams will reflect the changes in your environment.
Below is an as built diagram of an Avaya Communication Manager system with 3 G430 media gateways. The IP addresses will be shown in the actual report.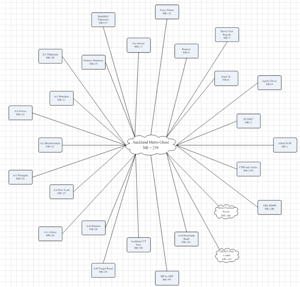 Here is an example Visio diagram of the IP Network region setup from an Avaya Communication Manager system.
This diagram is a great tool to visualize how your phones and adjuncts can access signaling and media resources in your system.